DISCLAIMER: The following blog post is a response to an article published by Brian Stelter of The New York Times in regards to the alleged treatment of Ann Curry prior to her departure from NBC's Today Show and is only to be used for the purpose of educational dialogue.
Now, I have read quite a few public relations case studies in my day, but I have yet to read anything as interesting and engaging as the Ann Curry article from The New York Times.
At times, it was disturbing to read just how calculated "Operation Bambi" was and how many of the internal employees were aware of the situation. I mean, it's one thing for top executives to make the decision to let you go and another for the employees to be whispering in the wings about when the axe will fall.  I can only image how Curry felt throughout the experience.
Potential Ethical and Legal Issues
Under Title VII, NBC News could potentially be liable for employment discrimination if Curry alleges that she experienced "disparate treatment" which implies that the employer intentionally discriminated against an employee because of his/her race, color, religion, gender, or national origin.  Curry's comments about the "Today" show and critics' suggestion that she "lacked chemistry" should be carefully monitored as they could potentially lead to a sexual discrimination law suit.  To date, Curry has called "chemistry" a euphemism and excuse "generally used by men in positions of power to say, 'The woman doesn't work.'"
If Curry's account is accurate, Jim Bell and Matt Lauer could potentially be accused of sexual harassment for creating a "hostile work environment" and having subjected Curry to unwelcome and offensive behavior.  Examples of this would be Bell having called staff members into his office to replay a blooper reel of Curry's on-air mistakes, negative comments made by Lauer on set to the "Today" show crew, and Bell's alleged after work celebration of Curry's removal that included a toast at Brasserie Ruhlmann.
It is true that Matt Lauer received negative backlash from Curry's departure. I watched the news at the time and I will admit that I immediately thought that he was the bad guy "breaking up the family." One could say that Curry's suggestion that "chemistry" is a term used to cloak discrimination in the television industry is especially interesting. One could assume that, based on her comment, this has been a long-standing tradition and one could find other examples of "chemistry" that didn't work out.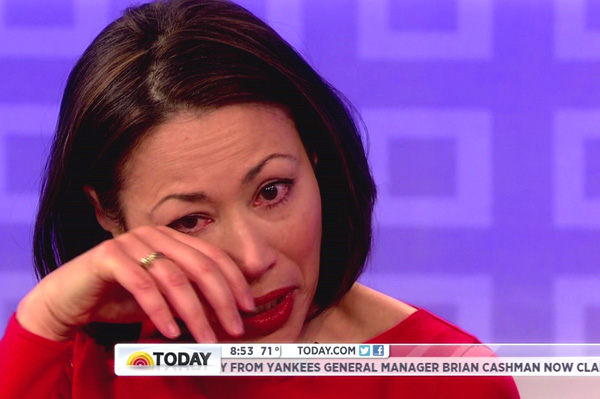 That being the case, one must also ask just what television giant NBC is doing to rectify this public relations issue. Curry's comments suggest that they don't care about their female employees. I don't recall seeing any type of human resources / public relation inspired response that encourages anyone to think otherwise. What makes me, a female communicator, want to strive to work for "Today" if they treat their female employees like Bambis waiting for the headshot?
Although this article doesn't encourage anyone to take any immediate actions, it does encourage a great deal of reflection and consideration. After reading Stelter's piece, I reconsidered how I interact with my co-workers and how when they gossip about each other in the workplace it makes me uncomfortable. This type of article would surely strike a cord with one of them as they may soon find themselves having a very similar "uncomfortable conversation" if they continue to conduct themselves in such a manner.
Recommended Actions
Although NBCUniversal established a corporate diversity and inclusion initiative in 2000, no mention of this initiative and related programs is being emphasized. To combat allegations that NBCUniversal is not a diverse company that supports female professionals, NBC should highlight and remind internal and external stakeholders about NBC-sponsored employee resources that encourage diversity and a "family-friendly" environment like the Women's Network @NBCUniversal (WNN), Asian Pacific Americans @NBCUniversal (APA) and six other employee diversity groups.
The company, and the "Today" staff in particular, would also benefit from a human resource training series that reminds staff members and executives about Equal Opportunity laws, Sexual Harassment Policies with case study examples, and legal protections associated with this issues. It could be argued that much of the unethical activities associated with Bell's "Operation Bambi" activities could have been avoided had he and his team understood the consequences of their actions and thus chosen alternative actions that wouldn't have left NBCUniversal so vulnerable to potential lawsuits or external critique.